The Best Places To Visit in Michigan in the Fall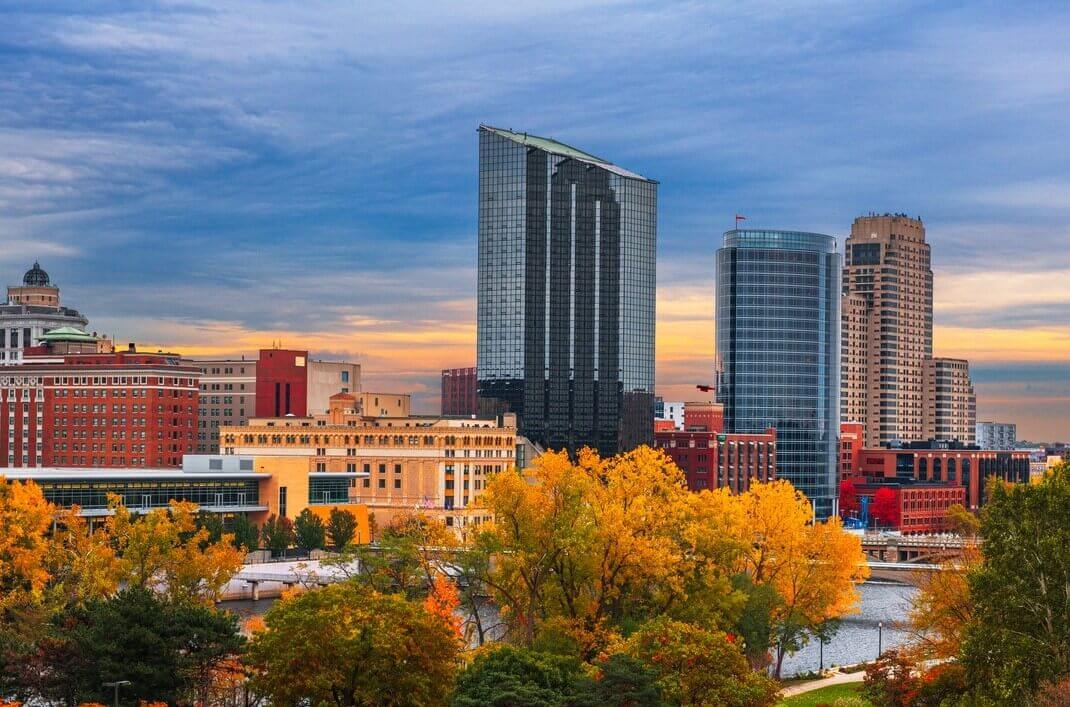 Experience the state's breathtaking fall colors from the shores of Lake Huron to the streets of Traverse City. Michigan is a state in the Great Lakes region of the upper Midwestern United States and is one of the best vacation places to travel to. Its land borders Wisconsin, Indiana, and Ohio, and it's connected to many lakes, including Superior, Michigan, Huron, and Erie.
Make your way to an apple orchard with the kids. Relax at one of Michigan's award-winning wineries or hike through the leaves along a state park trail. Whatever your destination, take the long way and enjoy a drive through Michigan's explosion of color.
Hungarian Falls in the Keweenaw Peninsula
Located in Michigan's Upper Peninsula, Hungarian Falls is a quiet, pristine spot to take in the fall colors. Hungarian Falls is a collection of waterfalls of varying heights within a two-mile hike along Dover Creek. Surrounded by the thick forest of the Keweenaw Peninsula, you'll find spectacular fall color and the peaceful sound of the rushing water as it heads down into Torch Lake, a lovely spot in all seasons.
When you embark on your journey to Hungarian Falls, it's important to stay safe and be prepared. Here are a few travel safety tips to consider before going on any journey or hike in Michigan.
Inform others. Let someone close to you know your travel plans. Leave them your contact information, the address of your destination, and how long you plan to be gone.
Emergency numbers. Make sure you have a list of updated emergency contacts, just in case. This list could include local authorities, healthcare providers, and loved ones.
Stay informed. It's essential to keep track of the weather conditions and updates about your destination and route.
Fall Color Tour in the Upper Peninsula of Michigan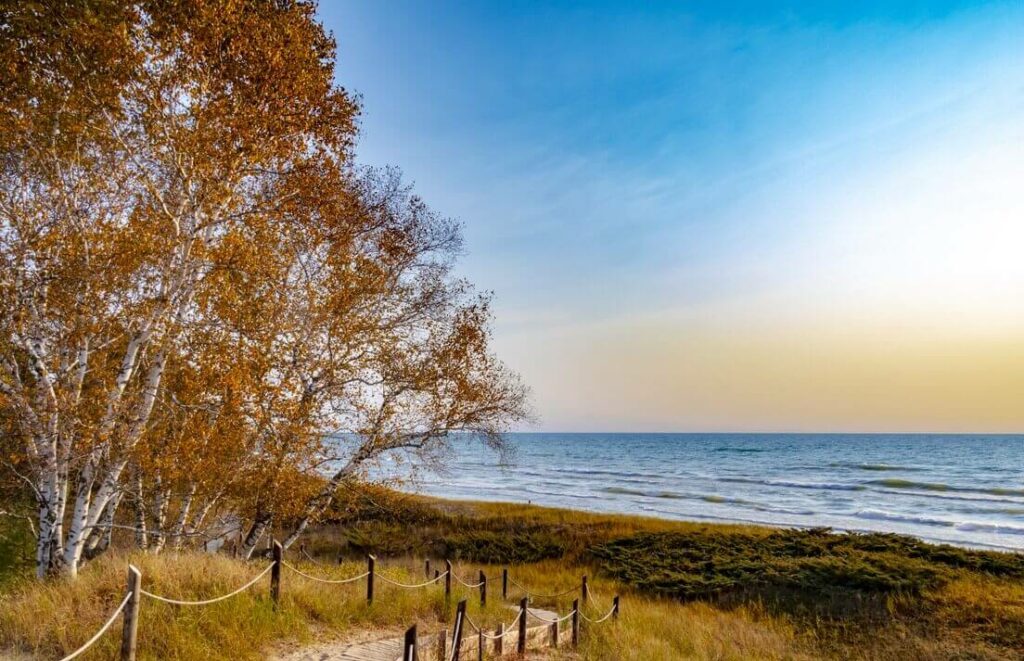 The Upper Peninsula is a forested region in Michigan bordering three of the Great Lakes and extending outward from Wisconsin. It's connected to Michigan's Lower Peninsula by the five-mile-long Mackinac Bridge, which spans the Straits of Mackinac.
The leaf show begins when the daylight hours get shorter and the night air grows crisp in mid-September. First, there's a splatter painting of scarlet reds and sunny yellows amid acres of green. Then, almost overnight, the hardwood forests explode in reds, oranges, yellows, purples, browns, and greens. The colors intensify and peak by mid-October. But this breathtaking show continues for a couple more weeks, especially along tree-canopied roads near the shorelines of Lake Huron, Lake Michigan, and Lake Superior.
Explore Traverse City
Autumn is a spectacular season in northern Michigan, where every bend in the road is a new burst of fall magic. Traverse City has abundant natural beauty, with rolling hills that slip into deep blue waters. With the crisp autumn air and the soft crunch of leaves underfoot, Traverse City is among the world's most beautiful and welcoming places.
Sleeping Bear Dunes National Lakeshore
Hovering over 400 feet above the vibrant Lake Michigan, the Sleeping Bear Dunes National Lakeshore is a treasure that never fails to awe its visitors and locals. It's one of America's most beautiful landscapes, with freshwater beaches, forested wilderness islands, and hiking trails. There is also the paved Sleeping Bear Heritage Trail, a pathway that runs from the park's northern end to a point just south of Empire.
Wine Tasting
Traverse Wine Coast has over 40 wineries, vineyards, and tasting rooms. From a traditional European ambiance to a minimalist modern atmosphere, the tasting rooms are a sight to behold. But they also have some of the best views of the shore-lined landscapes. Whether you take a self-guided tour or attend a shuttled event, the wineries always offer pristine hospitality.
Outdoor Activities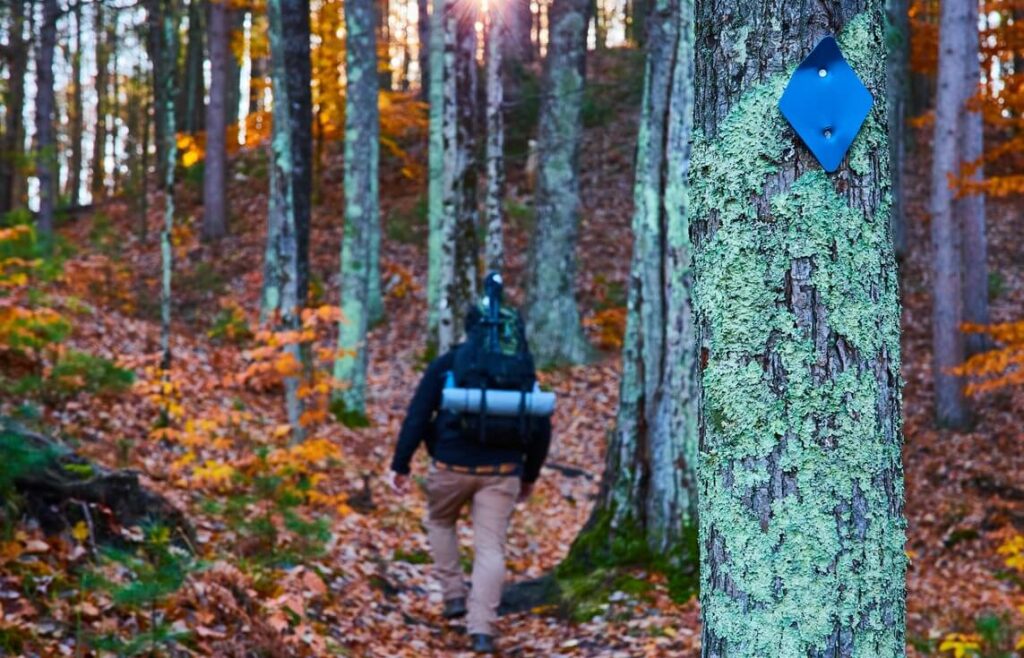 Michigan in autumn is the prime spot for hiking, biking, fishing, golfing, swimming, sailing, and much more. Come winter, the possibilities just increase. You can cross-country ski, snowshoe, downhill ski, snowboard, snow tube, ice skate, and ice fish—it's a playground without limits. And if you need some friendly competition to fuel your spirit, there's a four-season calendar of races and sporting events as well. With all these activities, it can be a challenge to remember everything you need to bring. Before your trip, use these travel packing tips to make preparing for any activity easy.
Make a plan. First, map out what you plan to do on your trip. Then, list all the gear and items you need for each activity. Assess what will already be provided at your destination. Sometimes, you can find nearby outfitters to rent gear, so you don't have to bring your own.
Layered clothing. Michigan's fall weather can fluctuate, so pack layers to prepare for all temperatures. Just remove a layer if you get hot, or add one if you're cold.
Rain gear. If you're going to be outdoors, it's important to pack for a rainy day or two. Make sure to pack an umbrella, raincoat, rain pants, and waterproof shoes.
Travel Accessories. Don't forget your essentials like a reusable water bottle, a portable charger, travel-sized toiletries, and a first aid kit.
Visiting Grand Haven, MI
Grand Haven is a Michigan city on the eastern shore of Lake Michigan, known for its sandy beaches. A boardwalk lined with shops and restaurants runs along the harbor to Grand Haven State Park beach and the south pier—home to the 1839 Grand Haven Lighthouse. The seasonal Grand Haven Musical Fountain features synchronized light and water shows.
The Grand Haven Area is a year-round vacation destination, never lacking fun things to do. There is excellent biking and hiking, while the award-winning beaches beckon all to celebrate summer. Fall demands a charter fishing excursion when the salmon run or an autumn climb on the dunes. Winter is full of activity with snow sports, from sled racing and downhill skiing to snowshoeing and snowboarding. And no matter the weather, there's always shopping and fine dining.
Take a Pit Stop at ClearHome Storage
Passionate about self storage, ClearHome is the perfect place to store all your gear and furniture during a move to Michigan or even business inventory or documents.
So whether you're storing for a few days or years, you'll find that ClearHome offers convenient facilities to accommodate all your needs. Well-maintained, well-lit, and secure facilities allow you to rest easy while storing your belongings, boat, RV, or trailer with us. Whether it's climate-controlled storage, drive-up access, covered parking, or uncovered parking, ClearHome facilities have it all. Stop in, call, or go online to rent or reserve your unit today!
More From ClearHome Self Storage, LLC